In Defense of our "Hot Mess"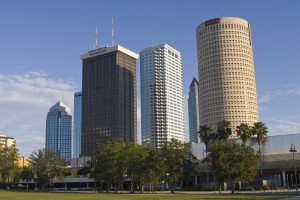 Oh Salon.com, you've gone and got Tampa people fired up by calling our city America's "Hottest Mess." The weekend feature by columnist Will Doig put an uncomfortable  (and many will argue not completely accurate) spotlight on Tampa – think an urban development version of the 360-degree mirror from "What Not to Wear".  Yikes, do we really look like that?
Doig's piece was thankfully complimentary to the University of South Florida, noting both the excellent effort from Architecture's Shannon Bassett's (re)Stitch Tampa Bay and USF Health's Center for Advanced Medical Learning and Simulation downtown as glimmers of hope. On Point asked two other faculty experts to weigh in further, community development expert Elizabeth Strom and Center for Urban Transportation Director Jason Bittner. They post below:
Strom Writes:
            Will Doig notes many problems of urban development and planning all too familiar to those of us who live here. The fabric of our historic built  environment was nearly destroyed by urban renewal and highway construction in  the 1950s and 1960s. Since then, most new development has occurred outside the  urban core, so our communities are a collection of far-flung subdivisions  linked by (often congested) roadways. Our mass transit system is inadequate to serve our sprawling region, with no rail lines and few express bus lines.

I agree with much of his criticism (and most notably with the thoughtful observations of School of Architecture and Community Design professor Shannon Bassett), so why do I find the tone of his article to be so irritating?  First, the academic in me recoils at the ahistorical quality of his analysis. Blaming the Tampa Bay area's sprawl and lack of a center on "Tea Party politics," as he does, might generate more hits on Salon, but it overlooks the generations of planning decisions that created our current built environment, and gives the false impression that we could eliminate sprawl and  autodependence tomorrow if only we'd jettison those Tea Party thinkers. One could certainly argue that Tea Party activists helped defeat the referendum that would have supported the development of light rail in 2010, but in fact there have been plans on the boards to create a light rail system since the 1970s, none of which have been realized.

Secondly, the idea that Tampa is uniquely beset by these problems is simply not true. While we are one of the last big cities to lack any sort of light rail system, one would be hard pressed to argue that development patterns in other Sunbelt cities are less "sprawling" than ours.

It would be wonderful if that helps kick start a discussion about what makes great urban spaces and how we can get there. But Doig's suggestion that Tampa  and its built environment are simply an extension of reactionary Tea Party approaches to planning is belittling to the many people working to undo planning mistakes made, here and elsewhere, over many decades, and it's simply untrue.
Bittner's take:
Tampa certainly faces its share  of transportation challenges.  The inability to modernize and transform its  public transportation system to fixed guideways or rail, coupled with 30 years of amoebic suburban growth joined by recent economic recession, results in the  suboptimal network that will be on display during the RNC.  There is a lot more in play however than blaming the loss of a high speed rail line, tea party  politics, or development guidelines.  Doig's focus on the urban issues also misses many of the emerging positive aspects of the total transportation picture in Tampa.

Tampa has a world class airport, with a plan for an integrated multimodal transportation hub in its future.  The Port of Tampa is one of the  most efficient processors of bulk commodities in the nation and provides efficient movements of goods to our community.  HART, underfunded as it is, is adding a newly branded MetroRapid line to connect the USF community with the downtown.  New capacity for freight and commuters along clogged interstates and  arterials improve efficiency. New public  investments in the urban core,  includig the Riverwalk and the museums, are making the area more attractive to  pedestrians.  New bike lanes  and the nearly completed I-4 connector will  improve livability in downtown and tourist areas. Bassett's assessment is dead on that the system is not integrated but system-wide changes do not happen  overnight. Pace is glacial but failing to recognize Tampa's recent progress with a more reasonable spin is decidedly unfair.

Perhaps the biggest issue for  communities like Tampa is simply one of governance. Doig points to it, but dismisses the argument.  The City of Tampa and the City of Temple Terrace easily approved new investments in public transportation infrastructure.  Analysis of  the voting patterns show that Tampa prefers improved accessibility – it was the outlying metro areas that sunk the ballot measures that could have injected a  much needed stimulus into the system. The state's constitution doesn't allow cities to raise revenue themselves for transportation.

Unfortunately, the RNC will have the biggest impact on the city neighborhoods that already are clamoring for transportation investment – the same areas that are willing to tax themselves to provide such improvements. The road closures, congestion, and  limited accessibility will foretell what continued economic growth and  population increases will bring to the area.  Possibly, the rest of the county will take note – more probably, they will not.

If nothing else, the attention that Tampa will receive next week will at least elevate the public dialogue on these and many other issues.  What we ultimately decide to do to ready ourselves for the Tampa of the future will be decided long after the tents are packed up, the buses returned to their charters and the speeches completed.  Tampa is a work in progress but one that is not a "mess."